Free Checklist
Improve Your Well Intervention Planning?
- 12 questions you need to consider
Discover your improvement potential
Well interventions are becoming more of a focus for energy companies looking to maximise the production of existing wells in times where environmental concerns over drilling new wells are increasing.
Planning for these interventions is still often a manual task. This document investigates how digitalisation of the process can reduce planning time and significantly reduce errors from use of unapproved data.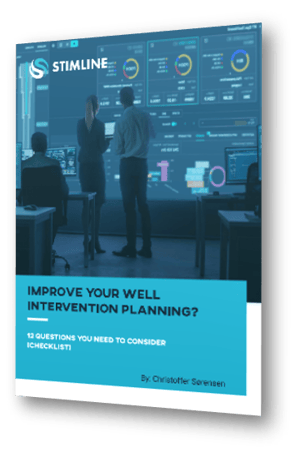 Furthermore, the document explores three methods which can be used to improve Well Intervention planning:
Continuous Improvement Cycles
Digital Work Processes
Collaborative solutions
Finally, the checklist includes 12 important questions to determine your improvement potential within well intervention planning.
A systematic approach to capturing and using well intervention data can allow companies to easily replicate successful strategies and reap the benefits over the lifetime of an asset.

Bringing data and analytical tools into one integrated package is the first step towards optimizing performance in this critical area.
CHRISTOFFER SØRENSEN
About the author
Christoffer Sorensen has been the North Sea Business Development Manager for Stimline since 2019 and has been involved in the Well Intervention industry since 2012.
Having first started as a Coiled Tubing Field Engineer for Schlumberger, Christoffer has been involved in all stages of planning, executing and evaluating Intervention jobs both in the field and in client offices.
Christoffer's passion for new technology and innovative solutions has seen him setting records in the North Sea and planning world
firsts in West Africa. The focus for him now is to continue to understand the challenges that Energy Companies are having and demonstrate how Stimline's solutions are already delivering value to current customers.